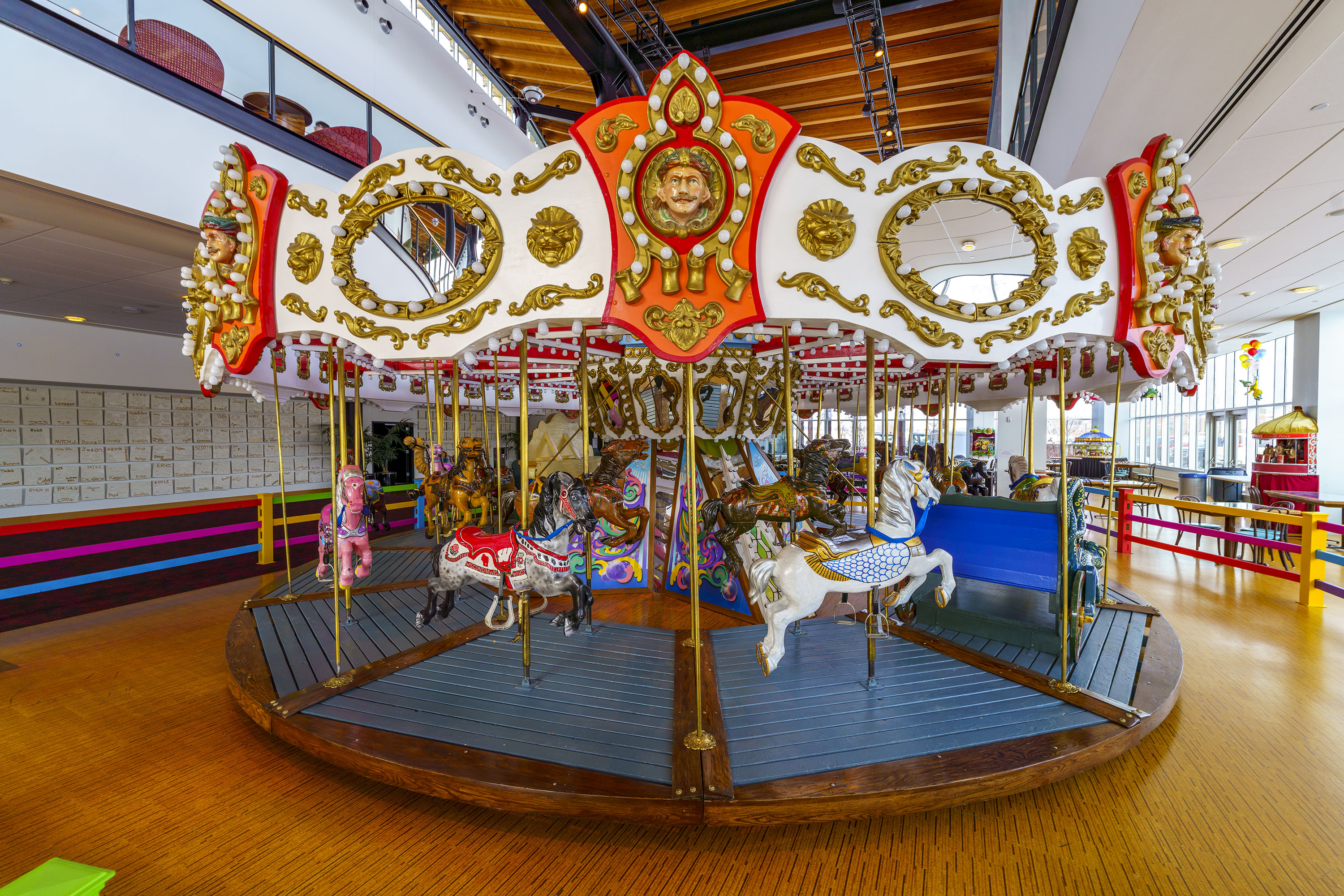 The Ella Carousel
One object that marked itself as a huge attraction point in Dane county is the carousel that had rested in the parking lot of Ella's Deli. Since the shutdown of the restaurant, Ella's Carousel has been purchased and moved into EPIC's Voyager Hall in Verona, Wisconsin, just a thirty- minute drive away.
The Carousel's History
This glamorous carousel, built in 1927 in Leavenworth Kansas by the C.W. Parker Amusement Company, had been titled the "Parker Carousel" by the Deli, but I, as a commemoration to the deli, will refer to it from here forth as The Ella Carousel. One of the oldest in our country, this carousel is one of the original 75 carousels in America. The Ella Carousel originally operated in an amusement park but when it closed they stored the carousel with little care, causing it to be severely damaged. In the 1980s, Nate Balkin, the new owner of Ella's, bought this carousel and had it restored. It took many months and lots of love to restore this beauty to its current glory.

It brought decades of joy to local children at Ella's deli and provided core memories for thousands. Once the restaurant closed, EPIC recognized it's historic and cultural worth and proudly purchased the carousel in June of 2018.
An "Epic" Journey
The Ella Carousel has certainly made quite a journey across the country to now find itself resting within the Voyager Hall at Epic. Epic has an outstanding reputation for being a quirky company that attempts to better its surroundings. It saw The Ella Carousel as an opportunity to continue that goal and celebrate our history.
Significance of this Carousel
I thought to myself, what better way to show the impact than by asking those who grew up in Madison about their recollections of the carousel. These are a few of those responses:
"I remember being a little kid and seeing the lights and music and not being able to look away from the carousel...-Henry Goldberg

"When I was little, like five to seven, I would spend the weekend with my grandparents, and we'd go downtown for breakfast every Sunday and then go get ice cream at Ella's and then ride the carousel. We did it almost every weekend; All the time. It's some of my most fond memories as a kid." -Michael Jordan
Every person I talked to had fond memories of Ella's and the carousel, only supporting the theory that this carousel has been extremely significant to Madison's culture.
The True Reason to Visit
The historic value of these amusement park rides isn't just in their construction but also in the memories made from them. If there is anything that I have learned, it's that memories make up the world around us. Culture, education, and passion are all made from memories, and these rides allow us to create amazing memories, making them deeply important to the culture and community we have created.